---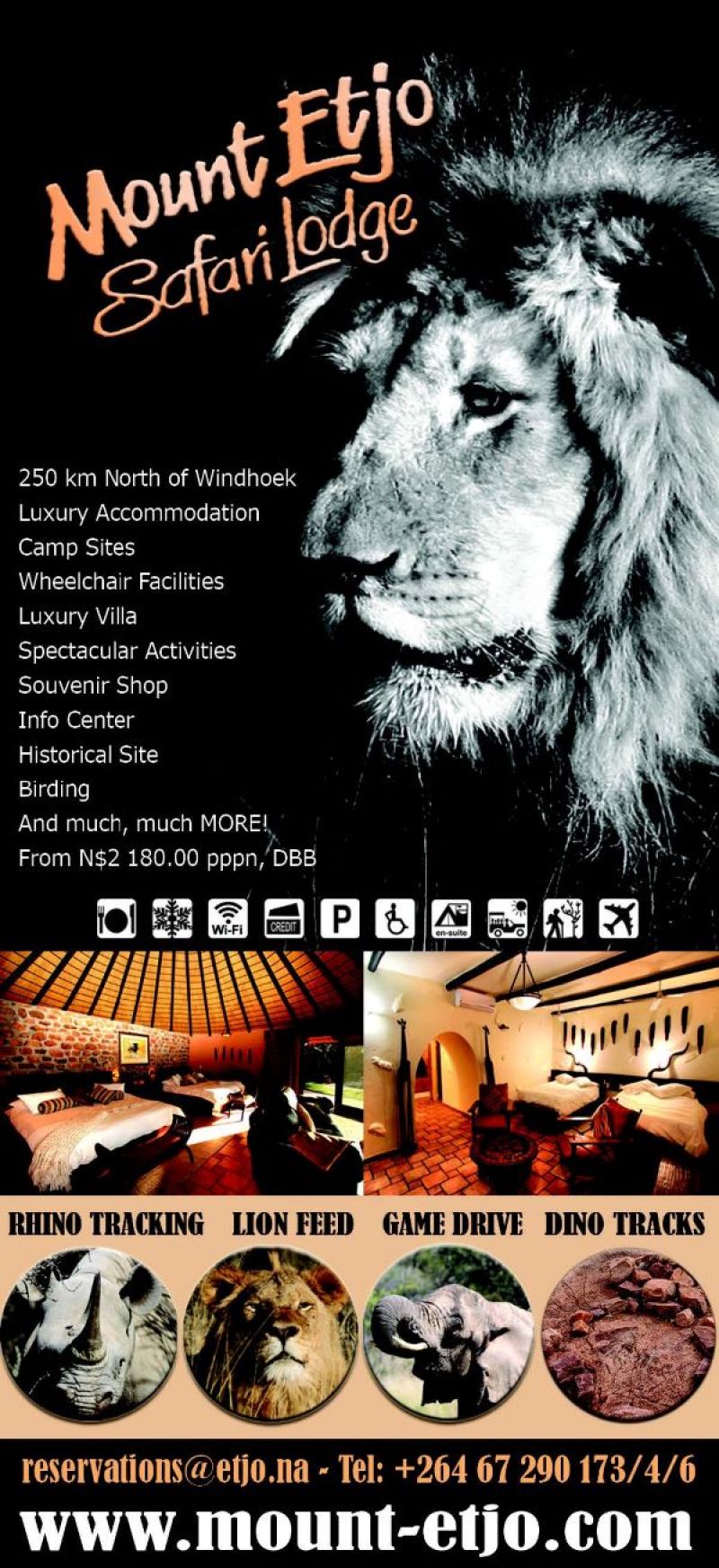 CONTACT:

CATEGORY:
Accommodation: Lodge
Encounter Wildlife, Dinosaurs, Namibian History... and much more!


PRICING:
Prices available on request



ZONE:
Zone 14: Dinosaur Footprints

---
Mount Etjo Safari Lodge is located in the heart of the Okonjati Game Reserve.




One of the first private Game Reserves established in Namibia and founded by world-renowned conservationist Jan Oelofse.




Home to over 8000 animals and an impressive variety of bird species the Okonjati Wildlife Sanctuary is a true Conservation Area, this historic lodge deservedly carries the name "Etjo", meaning place of refuge. Mount Etjo Safari Lodge is where the most important Declaration towards Namibia's Independence was signed in 1989 (The Mount Etjo Declaration).




Experiencing Wildlife activities and Enjoying Nature on the Okonjati Game Reserve is memorable and everlasting , while enjoying excuisite cuisine and luxurious accommodation, Mount Etjo Safari Lodge is and remains one of the most favourite destinations to visitors from around the world.






• Game Drives
• Rhino Tracking
• Birding
• Dinosaur Footprints
• Camp Sites
• Wheelchair Facilities
• Cheetah & Lion Feeding
• Private Luxury Villa


Latitude: 21 Deg 1'22.51"S Longitude: 16 Deg 27'13.03"E


Send a query via WhatsApp, then Mount Etjo Safari Lodge can reply directly to your device.
Your message has been sent.
Copyright: © Where to Stay.
No parts of this website may be reproduced, stored in any retrieval system or transmitted in any form or by any means without the express, written
permission of the publisher. Extreme care has gone into supplying accurate information, however, no liability can be accepted by Where to Stay for any
errors or omissions that may have occurred.
Tel: + 264 81 886 5788
info@wheretostay.na